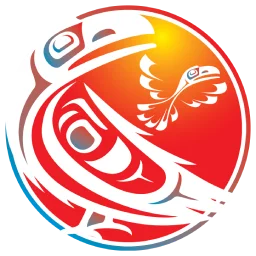 Our logo was designed by Jamin Zuroski, a N'amgis First Nation artist. Jamin describes his vision for the logo as follows:
This design symbolizes the knowledge, commitment, and vision of the Called to Action Collaborative to build strength, unity and greatness for the present day and future generations.
The two ravens each hold individual and parallel meanings of each other, such as giver of light, seeker of answers, and capable of mystical transformation.
The colours of the ravens represent equality, purity, tranquility, nourishment, and optimism for growth and success.
The colours of the circular background highlights the large raven giving light, warmth, and life to the world.
The large raven, positioned to the left, "the past," is remembering and embracing our ancestor's teachings and best practices. Its head is turned to the right, "the future," because it's fulfilling the life cycle's responsibility of intergenerational knowledge transfer to the upcoming generation (smaller raven) in the hopes that they'll continue this cycle, build partnerships, and fly high, proud and unified.